The Galactic Federation through Wanderer of the Skies
Pozdrowienia od Federacji:
Co musi się stać jest obecnie przedmiotem dyskusji na najwyższym poziomie waszych rządów na świecie, za zamkniętymi drzwiami i poprzez emisariuszy różnych innych rządów na całym świecie. Gdy zbliża się czas tego co jest nieuchronne, wasi przywódcy są świadomi, że nie mogą zatrzymać fali Ujawnienia ogarniającą waszą planetę. Wiedzą, że będą albo porwani przez tę falę albo muszą podjąć decyzję o Ujawnieniu przez siebie samych. Ich zdolność do marudzenia na ten temat zadziwia nawet nas, gdy widzimy ich walki między sobą na wspólnym gruncie. Gdy coś postanowią, ktoś nieuchronnie wycofuje się i cały proces zaczyna się od nowa. Czekamy w tle na to co musi być zrobione, jeśli nawet nie przez waszych ludzi.

Wiadomości dotrą do was wkrótce o "nowym" rozwoju naukowym w dziedzinie tego, co nazwaliście punktem zerowym systemu energii. To będzie reklamowane jako teoria, ale w rzeczywistości jest funkcjonującym modelem prawdziwego urządzenia energetycznego stworzonego dawno temu i dopiero teraz uwolnionego. Będzie też interesujący rozwój na temat prawa ochrony patentów. "Nowości" o tym przełomowym odkryciu będą starannie monitorowane przez tych przy władzy w celu określenia, jakiego rodzaju wpływ takie ujawnienie będzie miało na całą ludzkość.

Królowa Anglii oddała kontrolę nad frakcją Illuminati dla grupy, w której nasi sojusznicy mają przywileje "konsultacji". Oznacza to, w dłuższej perspektywie, że ta frakcja będzie bardziej otwarta na zmiany konieczne do dokonania Ujawnienia i uwolnienia ludzi od jarzma Kabała. Był to wynegocjowany "pokój", który pojawił się po wielu, wielu miesiącach pozycjonowania na wszystkich stronach. Jesteśmy przekonani, że jest to kolejna blokada pomyślnie usunięta w kierunku nieuniknionego.

Pewnie zauważyliście ostatnio nieznaczny spadek w pokazywaniu się statków, chociaż te ostatnie,które dostały się do waszych wiadomości miały bardziej spektakularny charakter. To się zmieni. Jesteśmy teraz na innym etapie procesu Ujawniania, w którym objawienia naszych statków będą bardziej zdecydowane.

Niedawno miało miejsce główne spotkanie wszystkich frakcji Federacji. Było to bardzo duże wydarzenie, nie tylko w liczbach ale również w znaczeniu. Było to ostateczne spotkanie przygotowawcze wszystkich zainteresowanych, aby przejść przez każdy szczegół nadchodzących wydarzeń, w tym politycznych, społecznych, religijnych, emocjonalnych, psychicznych i fizycznych konsekwencji Ujawnienia. To spotkanie odbyło się na pokładzie jednego z naszych wielkich statków, żyjącej maszyny, tak wielkiej, ze zrozumienie jej konstrukcji budowy jest dla was jeszcze mało osiągalne. Chociaż przestrzeń fizyczna nie była tak naprawdę potrzebna do tego procesu, gdyż telepatycznie omówiliśmy wiele z tych kwestii, od czasu do czasu zbieramy się fizycznie w celu lepszego rozwiązania problemów w taki sposób. Wśród reprezentantów byli ludzie z Ziemi, którzy wyrazili swoje opinie na temat nadchodzących wydarzeń, i których opinie były utrzymywane w najwyższym szacunku.

Chociaż mieliście liczne niepowodzenia na przestrzeni lat, jesteśmy podekscytowani perspektywą najbliższych miesięcy i co to ma dla nas wszystkich. Postarajcie raz jeszcze poczuć swoją ekscytację dla czasów, w których zostaliście wybrani i dla sposobu w jaki przebudziliście się do prawdy. Wasze myśli stworzą falę, które będą stanowić sygnalizatory dla prawdy i ta prawda powróci do was z mocą.
Channeler: Wanderer of the Skies
Przetłumaczyła Krystal
We are looking for new translators English-Romanian and English-Indonesian for Wanderer's messages.
We are a team of translators from all over the world (more than 100 people for 24 languages) that wants to spread messages of Unconditional Love and Spirit Light as far and wide as possible.
Would you like to join us? Please send an email to
and we'll get back to you. Please understand that we are looking for native speakers (target language) to keep quality standards as high as possible.
http://turkishwanderer.blogspot.com
- TURKISH
http://arabicwanderer.blogspot.com/
- ARABIC
http://slovenskywanderer.blogspot.com/
-

SLOVENSKY
http://greeckwanderer.blogspot.com/
- GREEK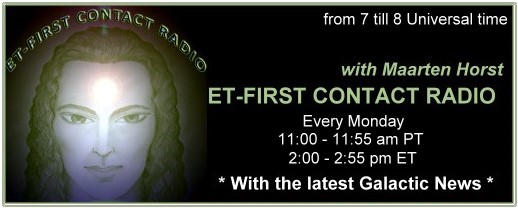 Every Monday night from 8 to 8:55 pm
channelings and related matters are being discussed on First Contact Radio.
The show is hosted by Dutch lightworker Maarten Horst and is presented in English.